Five Considerations For Businesses Choosing Between Energy Storage and Generators

Toby
It's a fact: energy is expensive and, for a majority of our customers, prices are only going up. Businesses are looking for smarter, greener, and cheaper electricity. With energy storage, it's possible to have all three of these benefits at the same time.
While generators are typically seen as more cost-effective upfront, energy storage can provide greater financial and environmental value over the life of the system—and support a company's corporate social responsibility goals.
Although Convergent Energy + Power is a leading energy storage developer with over a decade of expertise, we are committed to helping companies find the right solutions for their needs. If you're looking to reduce your energy costs, this blog post can help you weigh whether a generator or a battery storage system is right for your business.
Whichever solution you choose, you'll be able to dramatically reduce those costs, allowing your business to stay competitive and keep or hire more employees.
A battery and generator can provide comparable savings, depending on various factors and contract structures. But we know cost is not always the only factor in the decision. Once it's clear that batteries and generators can be cost-competitive over their lifecycles, there are an additional five considerations when determining if a battery or a generator is right for you. Let's break them down.
The Five Considerations
Consideration #1: Emissions
There are two main forms of generators—diesel and natural gas. Both are dependent on fossil fuels and produce air pollutants such as sulfur dioxide, particulate matter, and carbon monoxide, as well as greenhouse gas emissions. If you select a generator, you'll produce additional emissions and pollutants along with it, increasing your carbon footprint at a time when regulators and individuals are increasingly calling for more renewable energy.
We recently conducted a study on energy storage to compare the emissions of battery storage versus generators.
Convergent recently conducted a study on energy storage to compare the emissions of battery storage versus mobile generators.
As you can see, installing a battery storage solution at your facility is essentially emissions-free, with a significant pay off. Energy storage actually reduces greenhouse gas emissions by storing power from the grid at off-peak hours, when the energy mix is cleanest, and dispatching it during grid peaks, when the energy mix is most carbon-intensive.
Not only is energy storage the cleaner, greener option but the environmental impact is also minimal at the site of the project. When a project is completed, the land where the battery sits can be restored to its original state without the fear of brownfield contamination.
Consideration #2: Interconnection Process
Any kind of distributed generation interconnection is likely going to be a bit of a challenge—that's the reality.
Generators, however, are notoriously difficult to move through the interconnection process when running in parallel with a utility.
In many cases, the interconnection process for energy storage is expedited. Especially with larger batteries, we can expedite the process because the battery and inverter systems do not present the same challenges to the grid as a generator does. At Convergent, we handle and manage the interconnection process to operate your energy storage solution as soon as possible.
Side note: capturing and using waste heat from generators (or turbines) through combined heat and power (CHP or co-gen) can improve the efficiency of a generation asset. The downside of CHP, however, is that it imposes greater capital requirements and tends to limit the ability to match electrical generation to the full demand of a facility.
Consideration #3: Ramp-Up Time
Generators only work if they have fuel. Moving the fuel to the generator requires pressurized systems, storage tanks, and time. Generators can take up to several minutes to get up to full power, while energy storage can be discharged immediately.
In other words, the instantaneous nature of energy storage makes it a preferred solution for companies looking for sub-second responsive times and the immediate availability of energy.
4: Noise Pollution
No one likes a noisy neighbor. Fossil fuel generators can produce anywhere from 60-120 decibels (dB) of noise pollution. 120 dB is almost as loud as a jet engine!
Energy storage solutions are virtually noiseless and the HVAC systems that cool the energy storage systems are unnoticeable.
5: Operations and Management (O&M)
Last but not least to consider is the added responsibility and expertise on your team that would be needed to manage either a generator or a battery.
Generators need to be monitored 24/7 due to the multitude of variables affecting their optimal maintenance. If you invest in a generator, you should be prepared to hire someone on site to run the generator, especially if you are depending on a co-gen plant. Over time, the generator will need oil changes, filter changes. In the case of emergency generators, they will need to be run on a weekly or monthly basis into a load bank to ensure that they are working properly. Further, the lifespan of a typical generator is around 10-15 years and will need to be replaced entirely at the end of its life.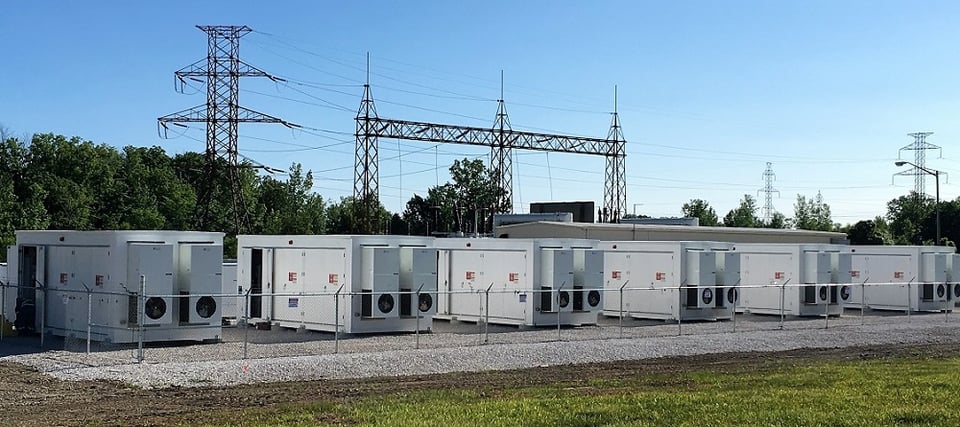 Batteries present a different kind of solution. While it's true that a battery is like a giant paperweight if it is not being properly managed, batteries can be run and discharged remotely. Here at Convergent, we remotely dispatch our storage assets at the most strategic, cost-effective times, removing the responsibility of operating or maintaining the system. We guarantee our assets will perform at nameplate capacity throughout the contract.
When a battery has reached the end of its use, we'll remove the system at our cost.
Batteries vs. Generators: Making the Choice That is Right for You
Naturally, savings are critical to businesses facing tight margins, competition, and supply chain issues. Once the economics make sense, however, there are other considerations facilities might prioritize, particularly emissions reductions.
When it comes to choosing between a generator and a battery storage system, a lot depends on the specific needs of your facility; what is most important to your business, and how important to you are the five considerations shared above (emissions, interconnection process, ramp-up time, noise pollution, and O&M)?
We are happy to work with your team to determine if storage is right for your needs. Reach out to us or email me directly at ttiktinksy@convergentep.com to start the conversation!
Toby is responsible for originating, negotiating, closing, and developing behind-the-meter projects with commercial and industrial clients, while supporting the firm's overall business development strategy.