Owning Versus Contracting Industrial-Scale Energy Storage and Solar-Plus-Storage
Convergent Energy and Power

The Benefits of Energy Storage and Solar-Plus Storage
As energy costs increase and environmental mandates tighten, businesses, particularly those that consume a lot of energy, are increasingly evaluating on-site solar, energy storage, or paired solar and storage to lower costs, hit carbon targets (or get ahead of regulatory changes), and manage power reliability.
As recently as five years ago, energy storage, most often in the form of a battery energy storage system (BESS), was not on the radar of most commercial and industrial companies as a way to manage energy costs. Today, however, battery storage, often paired with solar generation (solar-plus-storage), offers companies a proven way to reduce energy costs and reach sustainability goals at the same time.
If your business is considering a battery storage or solar-plus-storage solution to lower your energy bill, you are in good company. Businesses like Shell, Ford, and Pilkington (NSG Group) have done just that with a development partner (spoiler alert: that partner is Convergent Energy and Power).
As you consider procuring solar and/or storage, you may also wonder: Is it better to own the system, procured from a manufacturer, or partner with a developer that owns and maintains the system on your behalf? Which option will allow you to maximize the benefits and minimize the risks of an energy storage or solar-plus-storage system?
We'll explore the pros and cons of both approaches in this blog post.
Owning Versus Contracting Energy Storage and Solar-Plus-Storage
Convergent, a leading developer of energy storage solutions in North America, has been in the energy storage and solar-plus-storage industry since its infancy, more than a decade ago. Throughout that time, we've worked closely with businesses to take the hassle out of energy storage by building, owning, and operating systems on their behalf.
Although we have skin in the game, we have found that nearly all commercial and industrial businesses (and a majority of utilities) prefer to partner with a developer rather than own the system outright … yet the decision often comes down to key considerations around:
Capital Availability
Risk Tolerance
Availability of Internal Resources
Knowledge and Expertise
Time
Below, we will break down the factors that go into this decision as objectively as possible to help guide your decision. For businesses, the key consideration often centers on the opportunity cost of having employees focus on non-core business activities like operating and optimizing a storage or solar-plus-storage system. Most businesses want to do what they do best—and outsource something as complex as designing, constructing, operating, and maintaining a battery storage system. Managing an energy storage or solar-plus-storage system to maximize savings requires deep understanding of:
Energy pricing (e.g., how to optimize battery use to maximize savings based on current tariffs and energy contracts, and whether other tariffs or contract structures would improve economic outcomes)
Market dynamics (e.g., predicting grid peak hours in which the battery should be discharged to lock in savings)
Technical capabilities of the system (e.g., battery cycles, degradation rates)
There are multiple important considerations related to owning versus contracting a battery storage or solar-plus-storage system, so let's dive in:
Economic Considerations: Owning Versus Contracting an Energy Storage Solution
Ultimately, the key economic benefit of buying and owning your battery storage or solar-plus-storage system outright is that you can reap the full economic benefit of the resource but that is only if the system is optimally operated. This requires trained personnel—not only to operate the system—but also to maintain it (more on what goes into operating and maintaining a battery storage and solar PV below).
For some businesses, a primary economic consideration is capital availability (if your business chooses to buy a battery, you will need the upfront capital to make the investment). For many companies, this is a nonstarter as capital investments are typically allocated to core activities or the core business, such as machinery. However, even if you have the capital, you also need to consider the return on investment. For businesses that do have available capital to invest in energy solutions, buying an energy storage system involves waiting for a longer-term payout (i.e. 10-20 years). With a partner that finances the system, your business can realize savings from day one.
The solar industry's exponential growth is directly tied to the success of the power purchase agreement (PPA) contract structure that was a major innovation in enabling companies to consume more solar energy. The shared savings agreement (SSA) for a battery storage or solar-plus-storage system, is the next generation of the PPA. This performance-based contract has enabled more companies to store and deploy renewable energy with no capital expenditure and no operations and maintenance risk tied to technology underperformance or related problems.
Assuming you do have the capital to invest in battery storage or solar-plus-storage, is it worth it? What are the additional considerations beyond capital availability that, ultimately, tie back to value generated?
Operating Considerations: How a Battery Storage System can Become an "Expensive Paperweight"
One of our mottos is that energy storage without intelligent dispatch is just an expensive paperweight.
Why do we say that? Unlike solar PV, batteries do not generate power; they store power. As a result, knowing when to charge and discharge a battery system is critical to extracting the most value. An optimally managed battery storage system or solar-plus-storage system can yield significant savings, often as high as seven figures. However, this added value is not guaranteed and comes at a literal—and figurative—price in the form of incremental risk, responsibility, and capital.
Again, solar PV generates electricity when the sun is shining (assuming panels are performing optimally). Batteries, however, don't do anything unless they are told what to do. And this "secret sauce" is what makes battery performance so critical.
Convergent's energy storage intelligence, PEAK IQ®, is the result of over 10 years of research and development. PEAK IQ® uses the latest artificial intelligence (AI) and machine learning technologies to determine the optimal times to charge and discharge battery energy storage systems (standalone or paired with solar) based on customer load characteristics, utility rate tariffs, wholesale market pricing, grid peak times, weather forecasts, and other factors. PEAK IQ® helps customers reduce and forecast their energy costs while decreasing their carbon footprints.
It is possible to contract out just the operations of the battery storage system but there are potential pitfalls there as well. The major liability is that a company that does not own the battery does not have "skin in the game" when it comes to system performance. In other words, a company that you pay to just operate the battery will get paid regardless of the outcome. A partner that owns and operates the system on your behalf is financially incentivized to deliver maximum savings.
The bottom line: a business that cannot dedicate the resources to developing and maintaining AI and machine learning technologies (or contracts out for these services alone) will not likely be able to maximize the value of a battery storage system, even if you own it outright. Outsourcing just the operations leaves your business "holding the bag," if the system does not deliver.
Maintenance Considerations: Owning Versus Contracting an Energy Storage Solution
In addition to capital availability and battery storage operations, there is also system maintenance to consider. Whether you choose a battery storage or solar-plus-storage solution, owning the system will require you to contract with an operations and maintenance (O&M) provider.
Managing an O&M provider is not a negligible amount of work, because the provider may not share incentives on system performance. If there is a problem with your equipment, accountability is often bounced between an O&M provider and the equipment manufacturer. This is because neither of them is directly incentivized to get the system back online or performing as quickly as possible. A third party owner, like Convergent, should have experience managing these various parties, and is incentivized to swiftly resolve any issues that may arise.
As you may know, battery energy storage systems are complex and require 24/7 monitoring and alerting. All systems require annual maintenance, and many require quarterly or monthly maintenance.
On the solar side, the cleaning of solar modules must be done a regular basis to optimize system performance. It not only takes time to identify and manage these vendors—it costs money to pay them. Keeping solar panels clean can be particularly challenging in places where there is a lot of sun and also a lot of dust (e.g., the desert).
With either solution, if you own it, you must be prepared for the time and money involved in maintaining these systems. Generally speaking, solar maintenance is more turnkey (as the solar industry is about a decade older than the storage industry, but either way, it should be a factor in your decision).
Additional Considerations: Owning Versus Contracting an Energy Storage Solution
To help you evaluate whether owning or contracting is right for you, below is a checklist that compares the respective roles and responsibilities under both options, which goes well beyond financing, operations, and maintenance (including the procurement process, which can be daunting, particularly in the context of supply chain issues):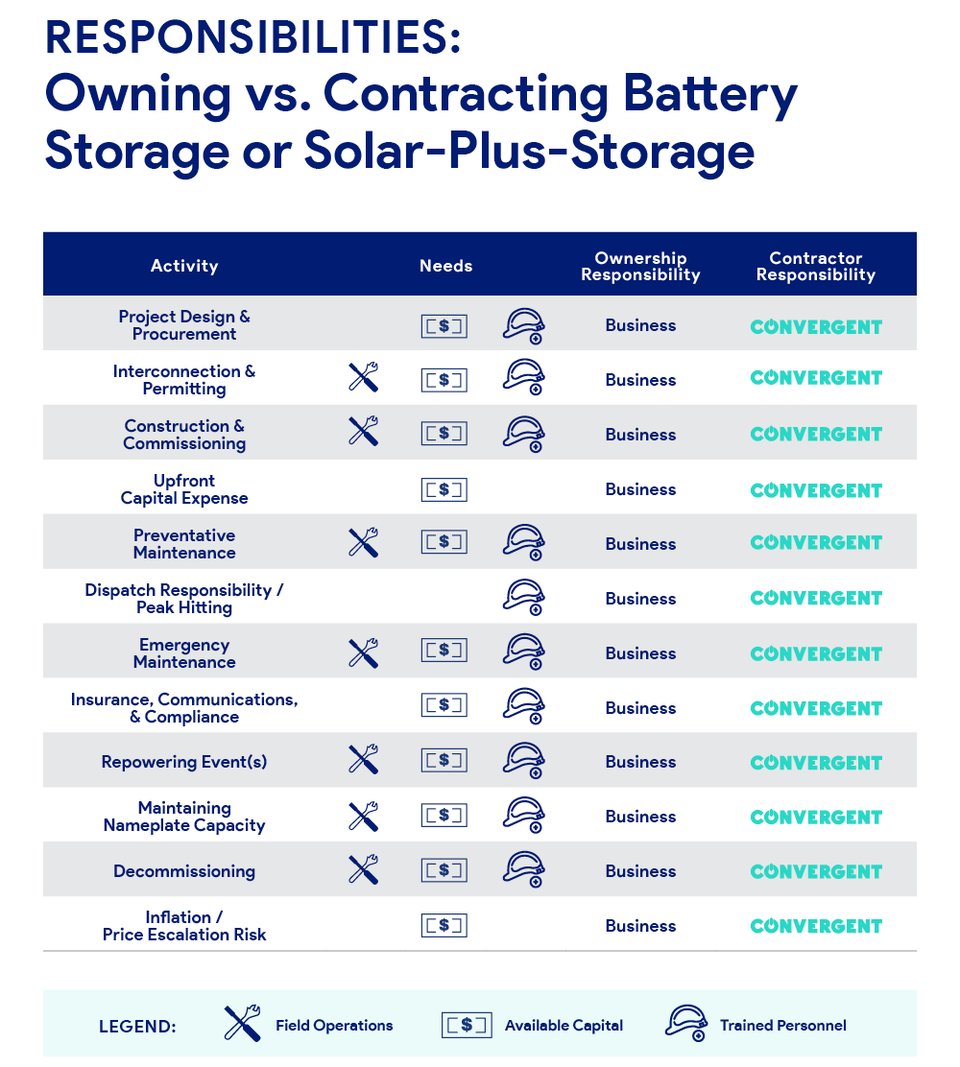 Conclusion: Is Owning or Contracting Right for Your Business?
Again, owning your battery storage system outright may allow you to reap the full economic benefit of the resource but that is if and only if the system is optimally operated and there's lot of evidence this is a specialized skill set that we've cultivated over more than a decade. This requires available capital and knowledge of:
Energy Pricing
Market Dynamics
Technical Capabilities
It also requires capital, a risk tolerance (and a willingness to wait 10-20 years for a return on investment), a willingness to invest in non-core business resources, and expertise in system design, procurement, and construction. All of this takes time. So there is both a financial cost and opportunity cost to ownership.
With this in mind, very few (if any) businesses decide to own and operate a battery storage or solar-plus-system themselves. This is partly because the shared-savings contract Convergent offers means we share in the upside and only make money if our customers do.
Our tagline is "Powered by Results." Our customers and customer savings speak for themselves. We've partnered with Fortune 100 companies and lowered their energy bills by up to 40%. We have delivered millions in savings while enabling our customers to access cleaner, more reliable power.
Learn More About Energy Storage or Solar-Plus-Storage at Your Business
Please contact us to learn more about the opportunity for energy storage or solar-plus-storage at your organization or to chat through key considerations in owning versus contracting these systems.